PRESS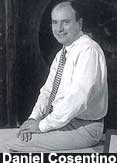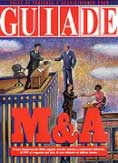 The mix of entrepreneurs and venture capital investors is leading to innovation opportunities that modify our economy and may redefine international borders.
Arquitectos del Nuevo Renacimiento
Así como el Renacimiento se concretó gracias a banqueros como los Médici que apoyaron a creadores como Miguel Angel, los nuevos emprendimientos en Internet se materializan con el financiamiento de especialistas en venture capital que antes operaban exclusivamente en el mercado americano y ahora ya se han instalado en la Argentina. En este sentido, la experiencia de Daniel Cosentino (45), presidente de DC&G Investments sirve de ejemplo de modelo tanto para inversores como para futuros emprendedores. Collectivemind ya ha completado su primera ronda de capital institucional con inversores como Commonwealth Development Corporation de New York y SLI Ventures de Bermuda.
Daniel Cosentino encargado de la relación con el mercado de capitales dice: "La globalización del capital de riesgo es muy visible en Collectivemind", comenta Cosentino, "ya que los inversores tienen sede en Londres, Miami, New York, México y Buenos Aires, aportando una dosis enorme de experiencia y diversidad de enfoques "Al principio" agrega, "los primeros inversores fueron amigos de siete bancos de inversión del exterior, a los que se fueron agregando los propios clientes, fundadores de empresas puntocom consagradas, como Enrique Shaw de www.deremate.com y hasta el propio personal de Collectivemind.
En su corta historia, Collectivemind construyó el primer sitio de e-commerce de una empresa de la industria automotriz en el país, (www.ford.com.ar), el primer mall de comercio electrónico que actualmente está saliendo replicado en otros países de la región para páginas Doradas (www.paginas-doradas.com) y el sitio de CTI Móvil, que incluye una gran variedad de servicios, entre los que se destacan las tarjetas on line (www.cti.com.ar). Para empresas punto com, Collectivemind terminó el desarrollo de Officenet en tiempo record, lo que colaboró a incrementar el volumen de ventas on line de la compañía (www.officenet.com) y replicó Despegar con gran éxito en cinco países de la región en solo 30 días (www.despegar.com). En algunos casos, los clientes les ofrecieron la posibilidad de ser socios en sus emprendimientos, como manera de asegurar su máxima dedicación. Tal fue el arreglo con Dearriba, un start up que consiguió 27.000 usuarios registrados en sólo 30 días (www.dearriba.com) y Netenvios (www.netenvios.com).
Con el ingreso de inversores de seed capital y la dedicación de sus fundadores, esta empresa pasó de tener diez personas trabajando en Buenos Aires a convertirse en la más importante empresa de e-consulting de la región con cerca de doscientos especialistas repartidos entre Miami, New York, México, San Pablo, Santiago y Buenos Aires.



Asset Management - DC&G provides the experience and competence found in larger firms to qualified high-net-worth individuals with the attention and expediency of a smaller enterprise.
Read more




Venture Capital - These transactions mainly depend on our professional assessment of the merits of a typically new or revolutionary idea to be implemented in a major OECD market or the implementation of an established US practice overseas.
Read more




Private Equity -DC&G specializes in private equity transactions in Latin America, with particular emphasis in the Mercosur countries.
Read more




Consulting Mergers and Acquisition - DC&G assists clients in the design and implementation of corporate acquisition and divestiture programs, restructuring and strategic alliances, and a variety of similar non-recurring transactions relating to financial structure and corporate control. Several consulting assignments include debt restructurings and the relationship with local and external creditors
Read more




People


Deals - AIG/CFA - Collectivemind - Confidential - Pharos - TIP - Press




Library - Research and Links. Read more




Contacts - Business - Internships





Spanish