AIG - COMPAÑÍA FINANCIERA ARGENTINA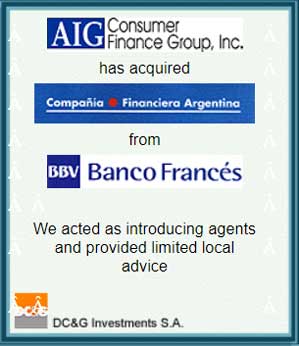 We envisaged that a parent company with the funding capabilities of AIG Consumer Finance Group, Inc and local management expertise as available at Compañía Financiera Argentina could implement lending strategies that would facilitate consumer acceptance, and generate consumer loyalty substantially reducing marketing, distribution, and collection costs, enhancing return and reducing risk.
The Argentine market for consumer lending could be described as underdeveloped with high growth potential. The total population of Argentina is of about 36 million inhabitants, of which 15 million dwell in urban areas. Of these, 7 million live in the city of Buenos Aires and its surroundings. The low state of indebtedness of Argentine families suggests that consumption credit will be the retail segment's star during the coming years. Consumer credit (such as motorcar liens) and credit cards will concentrate most part of the activity. Credit cards' participation in the economy is low - around 0.3% (GDP) - when compared to developed countries like the US. where it amounts to three percent. The total consumer lending potential market for consumer lending could be reasonably calculated in no less than $5 billion. The market is barely covered at 10% of its present demand.
AIG press release can be seen here.
Banco Francés press release is included as well.



Asset Management - DC&G provides the experience and competence found in larger firms to qualified high-net-worth individuals with the attention and expediency of a smaller enterprise.
Read more




Venture Capital - These transactions mainly depend on our professional assessment of the merits of a typically new or revolutionary idea to be implemented in a major OECD market or the implementation of an established US practice overseas.
Read more




Private Equity -DC&G specializes in private equity transactions in Latin America, with particular emphasis in the Mercosur countries.
Read more




Consulting Mergers and Acquisition - DC&G assists clients in the design and implementation of corporate acquisition and divestiture programs, restructuring and strategic alliances, and a variety of similar non-recurring transactions relating to financial structure and corporate control. Several consulting assignments include debt restructurings and the relationship with local and external creditors
Read more




People


Deals - AIG/CFA - Collectivemind - Confidential - Pharos - TIP - Press




Library - Research and Links. Read more




Contacts - Business - Internships





Spanish