COLLECTIVEMIND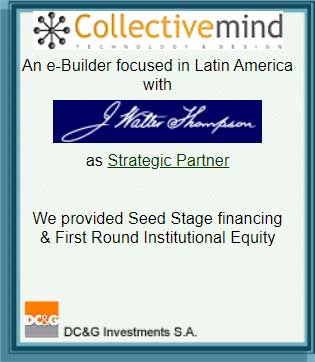 Collectivemind, Inc. was a service company providing integrated eBusiness Solutions with a presence in seven countries in the Americas, 250 employees and revenues of $5 million for fiscal year 2000. The company's strategic alliance with J. Walter Thompson and its relation with its shareholder, WPP, positioned Collectivemind as the undisputed leader in its field in Latin America.
We identified the growth possibilities of a ten people service bureau in Argentina transforming it into a regional Latin American company through several capital injections in excess of US$ 7 million.
Collectivemind clients included Coca-Cola, Ford, Citibank. BNP Paribas, Banco Galicia, Diners Club, Grupo Siembra, Gobierno de Chile, Gobierno de la Ciudad Autónoma de Buenos Aires, Telinver Páginas Doradas, Officenet, Walmart, Banelco, Netenvios, Dearriba, Netenvios, Shell and Movicom BellSouth. Case Studied Attached.
Collectivemind services involved: 1) eBusiness Vision Development, in order to explore potential opportunities based on different e-business models: eBusiness Strategy Planning to prioritize initiatives in e-Commerce; IT Architecture services to determine client requirements and implement specific solutions; 2) Interactive Communication Services with the J. Walter Thompson - Collectivemind alliance to provide Brand Consulting, Corporate Identity, eBranding; Creativity; Digital Media; Hot Sites and Permission Marketing; and 3) Development & Integration providing Storefront Solutions; Non Productive eProcurement (MRO); Vertical Portals; Mobile Applications; Public Key Infrastructure (PKI); Client Relationship Management (CRM); Inter company Portals (KM); Electronic Bill Presentment and Payment (EBPP); web based banking; and Integration of Web-enabled cross-platform applications.
Collectivemind had Microsoft Corporation; Microstrategy Inc.; Compaq Computer Corporation; Informix Software; and Diveo Broadband Networks Inc as main technology partners.



Asset Management - DC&G provides the experience and competence found in larger firms to qualified high-net-worth individuals with the attention and expediency of a smaller enterprise.
Read more




Venture Capital - These transactions mainly depend on our professional assessment of the merits of a typically new or revolutionary idea to be implemented in a major OECD market or the implementation of an established US practice overseas.
Read more




Private Equity -DC&G specializes in private equity transactions in Latin America, with particular emphasis in the Mercosur countries.
Read more




Consulting Mergers and Acquisition - DC&G assists clients in the design and implementation of corporate acquisition and divestiture programs, restructuring and strategic alliances, and a variety of similar non-recurring transactions relating to financial structure and corporate control. Several consulting assignments include debt restructurings and the relationship with local and external creditors
Read more




People


Deals - AIG/CFA - Collectivemind - Confidential - Pharos - TIP - Press




Library - Research and Links. Read more




Contacts - Business - Internships





Spanish